For over a quarter of a century, Frederick C. Brown Jr. has been carving beautiful award-winning decoys in various styles. Over the years, Rick has carved and painted in various styles. Although now his work is predominantly in the Delaware River style, Rick is able to customize decoy orders per customer requests. His decoys have evolved from factory birds to hand-carved, meticulously painted works of art that are highly collectible and very much sought after.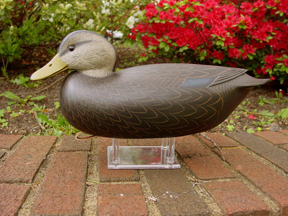 To learn more about Rick Brown, the history of his career, or view examples of his work, please refer to the menu above. To inquire about prices or to place an order, please submit the form in our Prices section. If you have questions or comments, please visit the Contact section. To see Rick's current offerings as listed on eBay, please visit his section containing his Current Auctions.
A fellow collector, Rick is always willing to lend a helping hand. With nearly thirty years experience in carving and collecting, Rick is extremely knowledgeable and able to identify many decoys. Do you have a decoy collecting dust in your basement? Don't know who it was made by? Or don't know how much it is worth? Rick is now offering free appraisals! Contact Rick for further information.
Current Classics, Copyright 2004. Design and website maintenance by Pigeonized.com. Last updated: 7/12/04